The BaduJet Imperial SwimJet System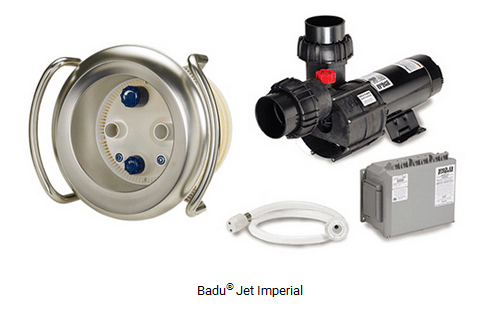 The BaduJet Imperial SwimJet System complete consisting of Dual Jet Nozzle Housing, Adjustable Flow Nozzle, LED Light, Stainless Steel Ring Cover, Stainless Steel Hand Rail, Massage Hose, 4 HP Pump Model 21-80/33GS and Control Box.
Features
Flush mounted, plastic housing, 16″ diameter.
Stainless steel 19″ round anti-entrapment cover provides undetectable suction.
Adjustable recessed dual jet nozzles.
All control are built into the housing

Volume control knob to adjust the flow of water.
Pneumatic on/off button guarantees complete separation between pool water and pump motor control.
Air regulator adjusts amount of air bubbles in water flow.

Control box with GFCI pneumatic button and tubing.
Speck 4 HP self-priming, plastic pump. UL Listed, single phase with thermal overload (no motor starter required).
Massage Hose with pulsator may be attached to jet nozzle.
Winter Cover Kit also available.
Installation
The BaduJet Imperial is normally incorporated into the original pool design, but it can be added to any pool at a later date. The BaduJet Imperial has no protruding parts ensuring pool users' safety. Very compact, installs at minimal cost. The BaduJet Imperial system includes control box with relay and air switch and air tubing. Minimum 4″ plumbing is required. Pump and Control also available in 3 phase.
Consult your physician before attempting any strenuous exercise. This product may not be challenging or satisfying for all levels of exercise.