Water Features
Water Features for Every Taste and Lifestyle
Water features are a fun and elegant way to upgrade the look and function of your pool and spa. From a rock-scape focal point with slide to trickling Laminars or scuppers, there is a feature for every taste and of every scale.
Fire Bowls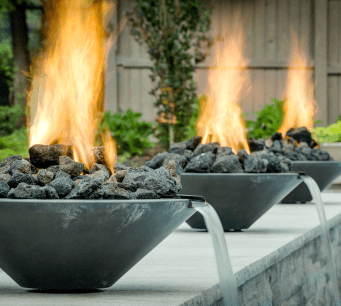 Fire bowls are water features with a split personality! During the day, they are unassuming, but are a great focal point of your swimming pool. At night, they come alive as their flames create a beautiful and dramatic ambiance.
Deck Jets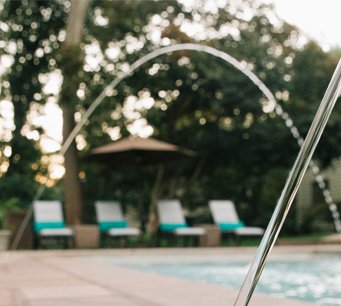 Deck jets are graceful streams of water that arch into the pool or spa from the pool deck, walls, or surrounding landscape. Similarly, Laminars are accompanied by colored LED lights that really amp up the drama at night and can even be changed to suit any mood.
Sheer Descents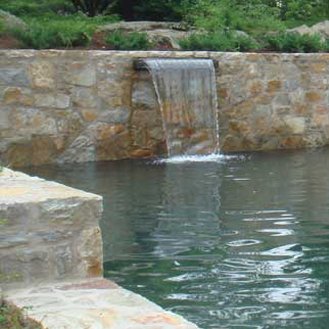 Sheer descents are water features that gently poor into the pool from pool or spa walls and come in configurations as various as a "sheet of glass" effect to sheets of rain-like droplets. They range in size from a few inches wide to several feet for a plethora of elegant looking applications, all providing the soothing sound of falling water!
Bubblers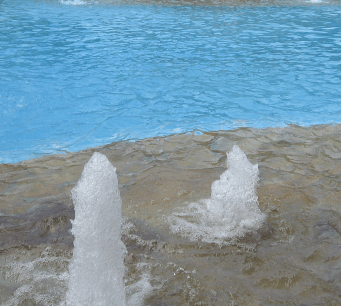 Bubblers are playful, gurgling fountains usually placed on steps or a tanning ledge that splash up from under the water. This creates a more unpredictable, free-form fountain that invites splashing good fun!
Sun Shelf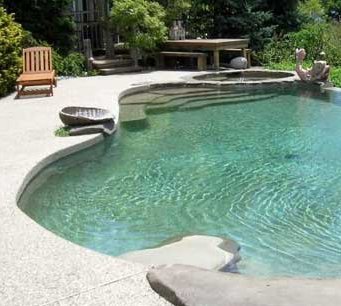 A sun shelf is a flat ledge typically located at the entrance of the pool. This tanning ledge is the perfect location for a lounge chair or the sun-worshiper who wants to avoid getting overheated from the sun or fully submerged while enjoying the pool.
Swim Up Bar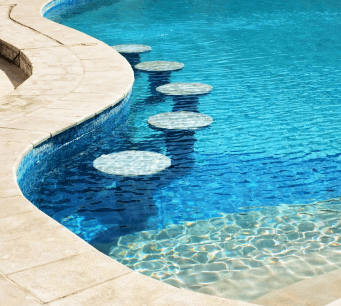 Swim-up bars are a great way to bring the fun of having a cocktail or food served to you in the pool because if you don't have to get out why would you? These areas feature built-in bar stools made of stone, tile or precast finishes and a bar that can be adorned in glass tile or beads. The options are endless.
Waterfalls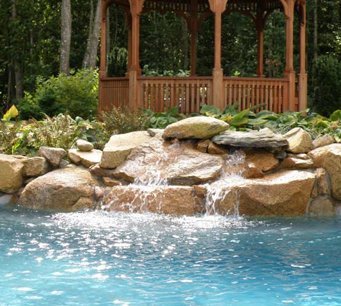 Most popular with freeform and lagoon-style pools, waterfalls can be constructed of a variety of stone and stone-look materials and in any size and scale. An especially popular trend is a larger-scale waterfall that creates a hidden, swim-in grotto, equally perfect for an exciting childhood adventure or a romantic stolen kiss!
Grottos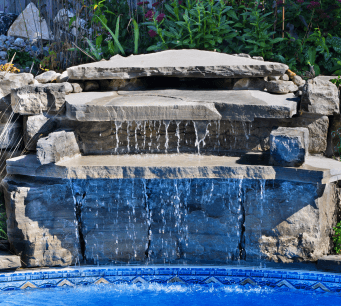 Create a romantic getaway or a place for pirate's treasure – in your own pool! A grotto uses rock & boulders (natural or man-made) to create a small cave where water runs-off, giving your pool an exotic, tropical element.
Water Slides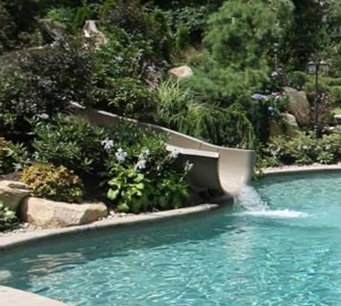 Today's water slides are designed to seamlessly meld with the style of your pool. Built of complimenting stone or other materials, they are sure to provide a visually pleasing accent while promising unending hours of fun for kids of all ages!